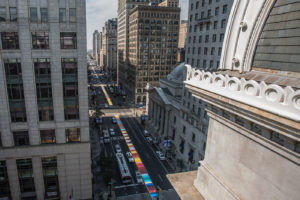 One of the projects I worked on with Mural Arts Philadelphia was recognzied by the Americans for the Arts, Year in Review, this week.
Mat Tomezcko's 14 Movements, A Symphony in Color, was commissioned as a temporary project during the Democratic National Convention in Philadelphia in summer, 2016. The project consisted of a mile-long band of shifting color that was installed on the surface of the median of Broad Street, heading south from City Hall in an area known as Avenue of the Arts.
While the project was best seen from high above, Tomezcko also collaborated with spoken word artist and Philadelphia poet laureate Yolanda Wisher to incorporate text-based messages to Philadelphia that were visible to people walking by.
Watch this video of Wisher narrating her poem as she walks down the mural.
As artistic coordinator for Mural Arts Philadelphia, I served as an advisor to Mat, helping him to review and refine his concepts, and to develop strategies for incorporating text, as he developed idea. I had given Mat his first public art commission a few years earlier for a portrait project in Manayunk.
Congratulations to Mat, Mural Arts Philadelphia, project manager Kate Jacobi and the scores of volunteers who made this happen.