Collaborations with Artists
Evacuspots
Bressi collaborated with Civic Center and Rebar Group on this proposal for a network of spaces throughout New Orleans where people could gather in the event of a flood evacuation.
The concept involved a series of 40-foot tall periscopes, that serve as landmarks peeking above the cityscape, and a playful new type of civic infrastructure that gives people a chance to survey their cityscape. The periscopes are labeled with key evacuation instructions. Situated in open spaces and medians in the city's main boulevards they could also become gathering places for classes and hurricane-awareness events.
The proposal was a finalist in a competition organized by the New Orleans public art program in collaboration with Evacuteers and the Department of Homeland Security.
Peeks!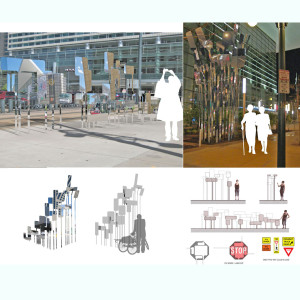 Bressi collaborated with Thoughtbarn on this proposal for artistic streetscape elements in downtown Denver. The metal, mirrored panels would capture reflections of the everyday pagaent of life in the city, and offer glimpses of the distant landscape and mountainscape. They would be organized in clusters that could form screens, hug the edge of buildings, or sprout from sidewalk planters like reflective flowers.
 Prairie Line Trail
Project Development and Management
Narberth Avenue Bridge
Bressi is managing the art commission for a new bridge in Narberth, Pa. The project will involve cast-stone panels insert into the bridge walls. The project is being developed in collaboration with Venturi Scott Brown Associates. It is currently in the preliminary planning process.
1601 Vine Street
Bressi is managing art commissions for 1601 Vine Street, a residential tower being developed by the Church of Jesus Christ of Latter-Day Saints in Center City, Philadelphia, as a Philadelphia Redevelopment Agency Percent for Art Project. The artist is Cliff Garten Studio.
Fort McMurray Airport
Bressi and Via Partnership planned and commissioned three public art projects for a new airport in Fort McMurray, Alberta.
Heights Park Rocket
Manayunk Public Art Initiative



Curtain Call
Bressi was retained to manage the artist selection for Garden Passage, a major new open space next to Pittsburgh's new Consol Energy Center arena. He organized, with Via Partnership, an international, invited competition that asked artists and landscape designers to form collaborative teams and selected artist–designer Walter Hood. He managed the day-to-day aspects of the implementation of the $1.5 million project, Curtain Call, through schematic design approval.
A project of the Pittsburgh Sports and Exhibition Authority.
How Philly Moves
Light Drift
Metamorphosis!
After completing the Girard Avenue Public Art Master Plan, Bressi was asked to help the Philadelphia Mural Arts Program implement the first project – a sculptural series on a knoll that serves as a gateway to Fairmount Park, and a mosaic series that ornaments a nearby bridge, both by artists Bob and Cheryl Philips. Bressi served as external project manager, facilitating community process, artist selection, design development and review by numerous city agencies.
A project of the Philadelphia Mural Arts Program and Phillips Metal.
Project undertaken at Brown and Keener Bressi.
Update: In Memorium: Robert Phillips
Corridor of Light
When Arlington County's public art program assembled funds from capital projects, developers and civic groups to build new civic infrastructure in Rosslyn, it asked Bressi to manage the artist selection and concept design process. Bressi, working with Via Partnership, managed an invitational selection process, developed an unusual contract, and worked with selected artist Cliff Garten to define the initial approach.
A project of the Arlington Public Art Program and Cliff Garten Studio.